Contemporary Fireplaces page 3

Antique and Modern Fireplaces
London Showroom with 40+ Fireplaces - Please call or email for details
Telephone: UK 07927 346347

©Antique & Modern Fireplaces & web site builders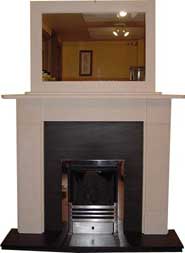 The Flat Victorian - Limestone with Paragon 2000
Click here for a printable
version of this page

All Fireplace Designs are ©
of Antique & Modern Fireplaces 2002
Antique and Modern Fireplacess of london.
We stock over 40 different fireplaces at any one time including;
Traditional Fires, Antique & Reproduction Fireplaces, log fires and many
other fireplace styles inc.
Stone, granite, slate, iron or wood, marble steel baskets and resin.
We also display many types of ; electric fires, gas & solid fuel fires
& display type fireplaces by leading manufactures
Antique fireplaces modern fireplaces art deco fireplaces
and many different kinds of real fires and coal fires, contemporary fireplaces
We are Fireplace Specialists with one of the largest fireplace showrooms
in London UK. We also stock a huge range of fireplace accessories.